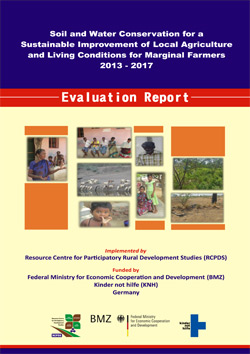 'Soil and water conservation for a sustainable improvement of local agriculture and living conditions for marginal farmers'i,s a agriculture based livelihood development project for marginal farmer families, women headed families, and children including adolescent girls in
selected locations in Viruthunagar district, Tamilnadu, India. The project covered 35 hamlets in nine Panchyats in Narikudi and Tiruchuli Blocks in the districat,i med to directly benefit 8,860 farming families with a population of 42,656 including 16,304 children.
The project, implemented by Resource Centre for Participatory Rural Development Studies (RCPDS), from 2013 to 2017, was funded by Federal Ministry for Economic Cooperation and Development (BMZ) and Kindernothilfe (KNH), Germany.R C PDS, a development NG0 registered in 2000, works on a variety of thematic programmes with a child centric approach.
The overall objective of the project was to improve the living conditions of the inhabitants of nine Panchayats by means of sustainable resource protection, a more environmentally responsible use of resources, diversification of sources of income, and provision of sanitation equipment