FOOD SECURITY THROUGH WATER AND SOIL CONSERVATION-SUPPORTED BY KNH-BMZ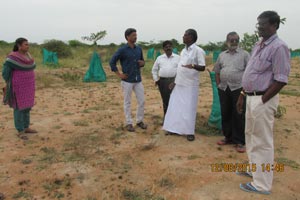 RCPDS in partnership with BMZ (Federal Ministry for Economic Co-operation and Development, Government of Germany) and Kindernothilfe, Germany launched a new program to benefit at 8,860 families directly inclusive of roughly about 16,304 children from nine panchayats of Tiruchuli and Narikudi Blocks of Virudunagar District, Tamilnadu. The families earn their living either on their own land or on leased land in the form of peasant farming or as landless farmers working on other people's land or as labourers in other economic sectors. Key emphasis is laid on improving common property resources with appropriate localised management system focussed on single women/women headed households and dalits (especially landless agri labourers). A special component of community based sanitation as well introduction of erosion toilets for individual households aiming to reduce incidence of sexual abuse on adolescent girls, incidence of snakebite and other hazards to the weaker section. Bird's eye view of the project ....
Development Goal(s)
Food security and poverty reduction by improving soil, water and land management, by protecting livelihoods and by strengthening women's and children's rights in Virudunagar District, Tamil Nadu.
Project's Overall Objective
Improving the living conditions of the inhabitants of 9 panchayats by means of sustainable resource protection, a more environmentally responsible use of resources, diversification of sources of income and provision of sanitation equipment.
Specific 0bjectives
1,500 farming families dependent on irrigated farming grow and harvest food crops on a regular basis.
4,000 farming families dependent on rain‐fed farming grow food crops in ways that conserve water and land.
1,600 landless families and women‐led households improve their regular income possibilities.
2,500 families improve their sanitation equipment and personal hygiene. The target communities have access to various state institutions and public services. Farmers and women headed households.
Target Area
| | | |
| --- | --- | --- |
| S.No | Name of the Block | Name of the Panchayat |
| 1 | Narikudi | Agathakulam |
| 2 | | Veerasolan |
| 3 | | Pillayarnatham |
| 4 | | Nathakulam |
| 5 | | Nallukurichi |
| 6 | | Illupaiyur |
| 7 | Thiruchuli | Udayanampatti |
| 8 | | Sennilaikudi |
| 9 | | Kutchampatti |