Networking-
Bridging the gap between the line departments and grass roots/democracy by facilitating dialogue process. Maintain good relationship with Forest Department, Animal Husbandry, Agricultural and other Departments of  Government of Tamilnadu and local civil society organisation
Capacity Building
Capacity building of the grassroots, specially the vulnerable weaker sections such as Women, Dalits and Landless - on the rights perspectives for effective participation in society at large.
Capacity Building Trainings provided in the following areas

Spider Tool Workshop
Child Rights and Child Protection
Participatory Rural Appraisal Workshops
Self Help Approach
Community Organisation
Institution Building
Leadership Training 
Organic farming
Institution building at community level-
In sustainability point view, we have formed Self Help Groups, Committees for protecting Child Rights and watershed, believing that the individual to bring about change through collective efforts. Our SHG focusing on social developments than economic development.
Child Rights protection-
Child Protection a shared responsibility of range of stakeholders and duty bearers. We can reduce child vulnerability by ………
Promoting community based support system
Making commitment to Child Protection and having vibrant Policy as well efficient
operational mechanism in place
Strengthen inter‐sectoral linkages and responsibilities
Establish standards for care and protection
Build capacities of all stakeholders
Ensure child protection services at all levels
Children can be involved in social audit on Protection issues
Promotion of network at community level
Disaster Mitigation-
Raise awareness of disaster hazards through public education, Shelf-help group forums, encouraging vulnerable people to take preventative and mitigating actions where possible before disaster strikes
Improve the ability of vulnerable communities to cope with disasters through community-based disaster preparedness strategies that build on existing structures, practices, skills and coping mechanisms. Recognizing that a community-based approach is the best guarantee that improvement in disaster preparedness will be realized and sustained, the assisted population must participate in the planning and preparation for disasters. All activities and programmes should be sensitive to issues of gender, generation and the needs of vulnerable groups, such as the disabled, children, aged and women.
Advocacy & Lobbying
Identify child related advocacy issues through situational analysis and program experience.
Identify relevant stakeholders and advocate for inclusion of children's issues and rights into preparedness and response planning – where possible let the children's voices be heard in this advocacy.
Soil & Water Conservation
Climate change has a greater impact on natural water resources and Agriculture. We have activities for water and soil conservation like rain water harvesting, Digging ponds, lakes, canal rehabilitation, tree planting, planting of hedges, gully plugs etc.,
Organic Farming
promoting traditional organic farming practices by creating and providing awareness and training to the farmers.
Monitoring and Evaluation & Documentation
Involve children and community in conducting baseline and situational assessments of target populations to identify knowledge, attitudes and
Identify and develop impact indicators that reflect the change to be achieved through program before starting.
Establish M&E plans together with children & community at the beginning of the program.
Include children and community in impact assessments, and lessons learned exercises.
Field Trials and Fact finding Missions-
Field Trials and fact Finding mission are carried out immediately after the incident of violation related to child rights. The Fact Finding team will rush to incident places where the violations have occurred. The team will collect fact and other documents from the place.
fact finding team has been constituted to find out the facts, causes of these series of children deaths in the open bore well accidents and to make recommendations to the state to take appropriate steps to prevent similar deaths in future.
Fact Finding on Open Bore Wells and Series Deaths of Children in the State of Tamil Nadu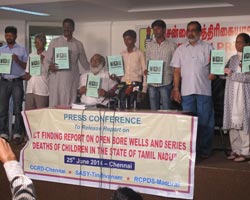 The constructions of bore wells have been on the rise due to abject scarcity of water supply in the country.As the ground water level has gone down, the construction of deep bore wells have become an inevitable actions to fulfill the needs of domestic consumption and irrigational purpose. Some of the bore wells have been abandoned due to inadequate ground water in the bore well. Those unused or abandoned bore wells are not properly capped ignoring the safety guidelines,leading to series of Children deaths as they are mistakenly stepping into the open bore wells in the state of Tamil Nadu.