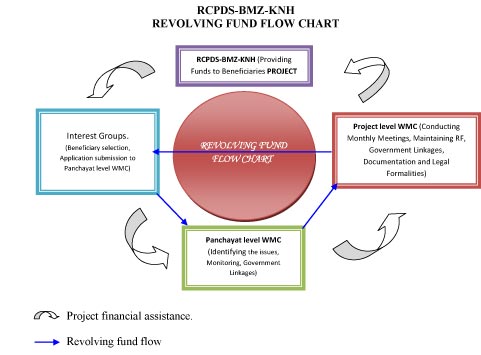 Roles & Responsibility of Interest groups.
Identifying the members and enrol.
Collection of subscription and to remit in Project level WMC
Conducting regular meetings and to document the minutes
Ensuring the participation in all the project activities.
Creating and maintain the water conservation models
Executing and ensuring the project implementations.
Identifying the beneficiaries and to submit applications for financial assistance.
 Ensuring the regular  recovery of revolving fund
 Enhancing child friendly approaches among community.
Linkages with Government and resource organizations.
Roles & Responsibility of Panchayat level Water Management Committee.
Conducting the meeting once in 3 months.
Identifying the issues of the water management and addressing to Project WMC
Monitoring and following the project activities.
Receiving need based resolutions with applications, screening the applications and recommended to Project WMC.
Linkage with Government and other resource organizations.
Roles & Responsibility of Project level Water Management Committee.
Members drawn from 9 Panchayat level WMC.
 Committee registered under Society Act.
Arranging need based training to target groups.
Conducting meeting once in 3 month
Finalizing the beneficiaries and recommending for assistance to the project.
Maintaining the revolving fund
Maintaining the records and documents.
Linkage with Government departments and other resource organizations.
Executing the entire project component and monitoring by committee.
Following legal formalities for the maintaining of revolving funds.