Children Led Ecological Farming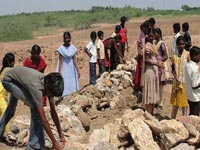 Child Led Ecological Learning Centre is an initiative by active members of Children Movement for Climate Justice—CMCJ to reduce the risk and vulnerability of children due to climate change. Apart from making claim on basic rights from duty bearers in the National and International context, we also take action by opening up new avenue for self learning of our generation in partnership with RCPDS and Kindernothilfe Germany. We are preparing ourselves to face the challenges by committing ourselves to change our lifestyle by placing "common good" of everyone above individual greed which is the basic seed for over exploitation of natural resources.
Here we learn and provide opportunity for other children on soil and water conservation, integrated food production, organic farming including  bio stimulants, use of non conventional energy, cultivation of traditional millets, pulses and cereals and herbal plants with their values.
We believe that this opportunity is life line for every child and this will no way hinder us or our parent's aspirations on us to become an engineer or medical doctor or anything else.  This learning venture is a life skill and basic for our living and protection of our only mother earth with dignity and sovereignty.
MAIN OBJECTIVES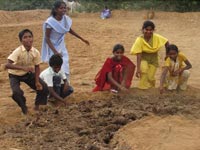 To ensure, food security concerns are mainstreamed in children agenda and opportunities are made for children from all sectors to learn Traditional, Organic – Eco friendly food production practices as part of their life systems.
Giving opportunity for children from dry land farming communities to have hands on practical experience alongside their academic education, while increasing their awareness on food sovereignty.
Intend to mobilize peer pressure among children from Rights Perspective through advocacy and lobby to lead policy makers to explore the opportunities and make informed decisions by taking sovereignty based food security in the broader context of rural and agriculture development.
RESULTS
Children's are able to give appropriate importance to food sovereignity and work towards food security.
Ecological balance and climate change mitigation efforts are taken by children using traditional knowledge base there by rights of children protected.
Children apply peer pressure within democratic norms to ensure policy decisions are in favour of food sovereignty thereby vulnerable and socially marginalised children are given priority with appropriate budget provisions. 
Child rights violations including ecological degradation at the State level identified on a regular basis and successfully addressed through respective committees on Climate Justice.  
Increasing Peer Pressure from grassroots and from children's camp on stakeholder concerned for effective addressing of child rights sensitive policy formulation through wider debate.