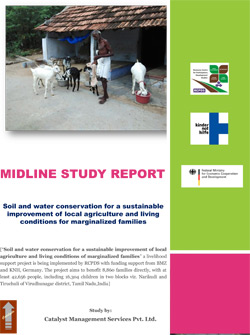 The midline study for the project titled "Soil and water conservation for a sustainable improvement of local agriculture and living conditions of marginalized families" was successfully carried out during AugustSeptember 2015. We express our sincere thanks to RCPDS(implementing partner), BMZ and KNH Germany (funding partners) for entrusting us the task of conducting this study, and for providing all necessary support for completing the study within the stipulated time. The study team acknowledges the contribution from the project team led by Dr. John Devavaram by way of providing crucial project documents, inputs on the project objectives, strategies, key activities and stakeholder" involvement in the project, and also the logistical support extended during field work.
The study team acknowledges the contribution from Mr. Sathish Samuel, KNH India Coordinator for being present and providing his inputs during the inception workshop on the study methods, tools preparation and field work execution. The study team also recognizes the contributions made by all the CBO leaders present during the inception workshop, shared project's progress, and their views on the project implementation, challenges and ways forward.
The study team also expresses its sincere thanks to all community members and secondary stakeholders who participated and provided key information during the primary data collection process. In addition to our study team a number of people at various levels have contributed towards the completion of the study. We sincerely thank all of them.