Open Bore Wells and Series Deaths of Childrenin the state of Tamil Nadu
Fact Finding Report- Findings and Recommendations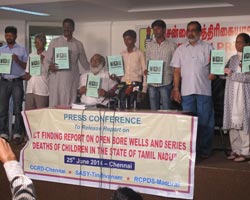 The constructions of bore wells have been on the rise due to abject scarcity of water supply in the country.As the ground water level has gone down, the construction of deep bore wells have become an inevitable actions to fulfill the needs of domestic consumption and irrigational purpose. Some of the bore wells have been abandoned due to inadequate ground water in the bore well. Those unused or abandoned bore wells are not properly capped ignoring the safety guidelines,leading to series of Children deaths as they are mistakenly stepping into the open bore wells in the state of Tamil Nadu.
The both print and visual media has published series of news about deaths of children who mistakenly stepped into the open bore wells. Very recently a girl child died as shefell into an open bore well on 6th April at Pallakacheri in Thiyagathurugam of Villupuram district and similarly a male child died as he stepped into an open bore well at Kedampalayam Village in Kalasapakkam of Thiruvannamalai district on 16th of April 2014.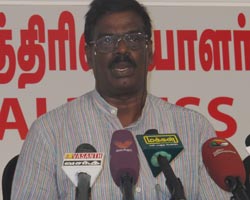 On 14th April 2014 the media has published news about another male child namely Harsan residing at Kuthalaperi village in Sankarankovil taluk of Tirunelveli district, who has been rescued alive from the open bore well. In these contexts a fact finding team has been constituted to find out the facts, causes of these series of children deaths in the open bore well accidents and to make recommendations to the state to take appropriate steps to prevent similar deaths in future.
Social Awareness Society for Youths (SASY), Center for Child Rights and Development (CCRD),
The Resource Centre for participatory Development Studies
(RCPDS) and Children Movement for Climate Justice (CMCJ)
who have been working for the protection and promotion of the child rights are the members of the fact finding mission. The fact finding team visited the places of occurrences on17th of April 2014, 7,8,9,21,22 of May 2014 and they met the parents of the deceased children, relatives, land owners (bore well), Panchayat President, Bore Well Machine owners, Police officials, Block Development Officer, Village administrative officer (VAO), District Child Protection Officer (DCPO), Member of Child welfare Committee (CWC), District Revenue Officer (DRO) and District Collector to obtain the facts and collect the documentary evidences and prepared a report based on the facts obtained from the field.
Mandate of the Fact Finding Team:
To study whether the Supreme Court guidelines has been followed during the construction, maintenance and closure of the bore wells.
To studymonitoring mechanisms evolved and put in place by the government officials regarding construction, maintenance and closure of bore wells.
To ensure that the parents of the deceased children are provided adequate compensation by the state.
To make specific recommendations to the state regarding preventive measures of the tragic deaths of children in the bore wells.
Member of the Fact Finding Team:
Mr.S.ThenPandiyan, Deputy Director, CCRD, Chennai
Mr.I.Pandiyan, Program Director, SASY, Tidivanam
Mr.R.Murugappan, Sr.Program Coordinator, SASY, Tindivanam
Mr.J.S.Nirmal Raja, Program Coordinator, RCPDS, Madurai
Mr.V.Senthil,MISCoordinator,SASY, Tindivanam
Ms.R.Lalitha, District Human Rights Defender , SASY, Tindivanam
Mr.Sukarsh, Intern, Social Science Student from TISS college, Mumbai
Master.R.Jone, Representative from Children Movement for Climate Justice
Master.N.Shine, Representative from Children Movement for Climate Justice